Premium Vendor Portal Overview
In this article, we'll provide an overview of features available via the new Premium Vendor Portal. For information on how to register as a Premium Vendor, please check out How do I Register for a Premium Vendor account?
Logging In
You can log into the Premium Vendor Portal at https://vendor.bonfirehub.com.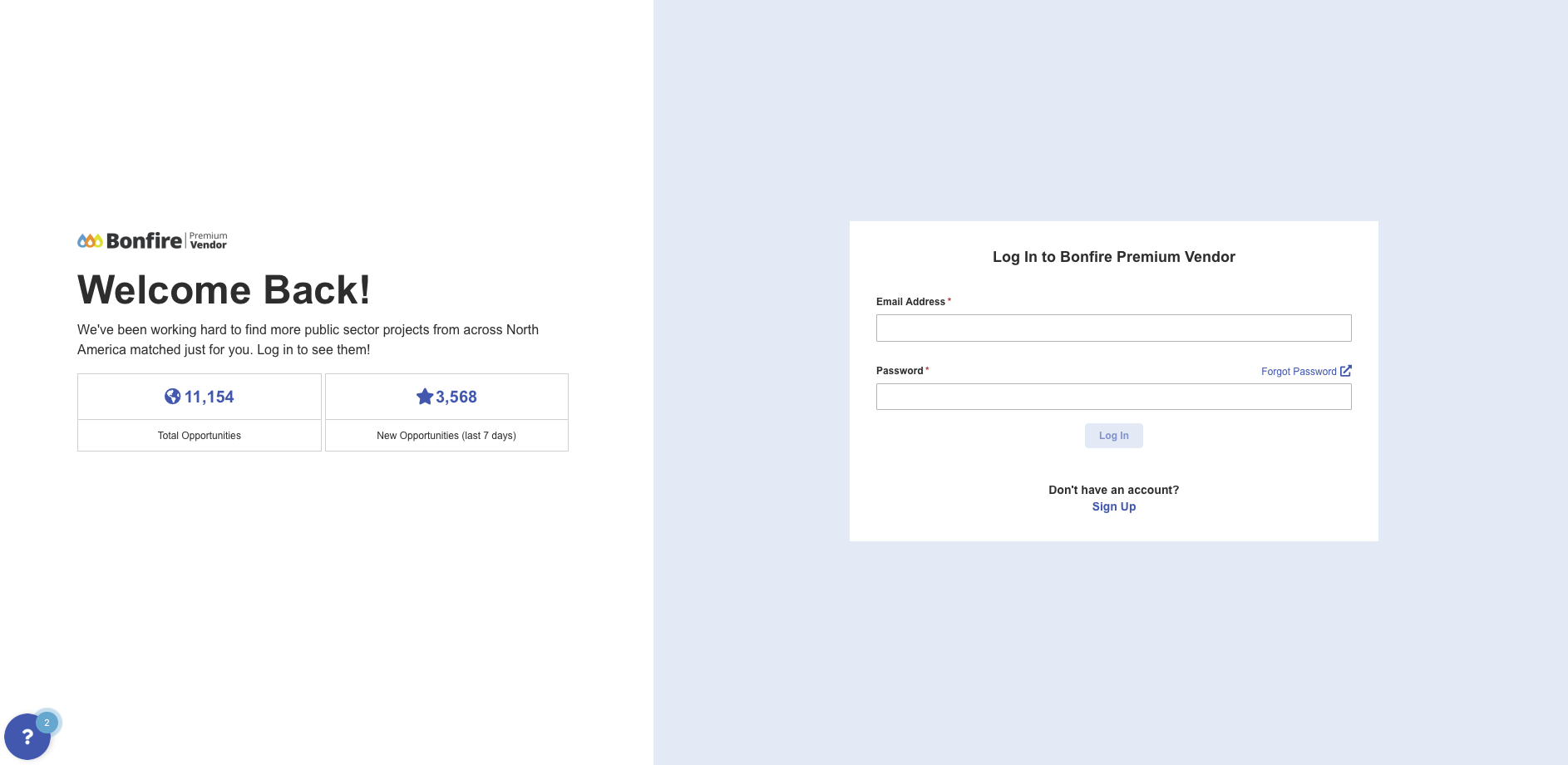 Accessing the Dashboard
The Dashboard is your new home page in Premium Vendor. It can also be accessed from any page via the top navigation

My work widgets
On the top, there are a number of widgets to help you get an overview of your work within the Bonfire platform. Please note that any external source opportunities are not captured in these widgets, with the exception of the following (you can follow an external source project).

Following

: displays all opportunities a user has chosen to follow. Only

Open

opportunities show in the count (but you can still see opportunities that have closed in the list view)

Work in Progress

: Displays all opportunities where a submission was started but not finished

Submitted

: Displays all opportunities a vuser has completed a submission for

Awarded

: Displays projects where a user has been awarded AND the information is public in the buyer portal (we have added a note to the awarded details page about this)

Contracts:

Display the contracts where the vendor is associated with AND the contract is made public by the buyer (we have added a note to the contracts details page about this)

Missed:

Displays opportunities where a vendor started a submission and did not complete it before the closing date.
Widget details page
Use the View buttons to get more details about opportunities in a certain status - this will open the details page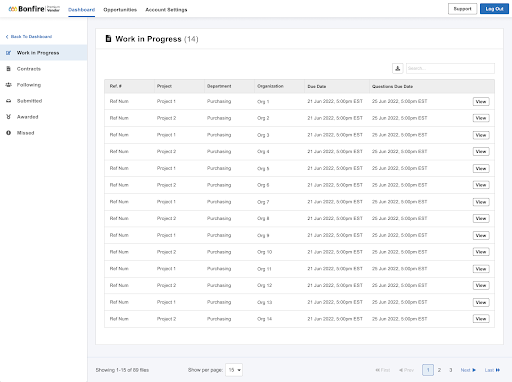 Within the details page, we display the corresponding opportunities with details. A user can:
Navigate to the other detail pages from here or back to the dashboard

Navigate to view the specific opportunity by using the

view

button

Search on all columns (except dates)

Sort by all columns

Export the list for own reporting by using the download button next to the search
Note: On the Contracts and Awarded pages, items only appear if the buyer has chosen to make those public.
Commodity codes & Keywords
The bread and butter of recommendations can easily be viewed and accessed from the dashboard:
Users can view and expand their selections on the right side of the dashboard

Users can use the edit icon to navigate and edit Commodity Code and Keyword selections
New recommended opportunities
Users will see their latest 5 recommended opportunities - a seamless transition from the recommendation email.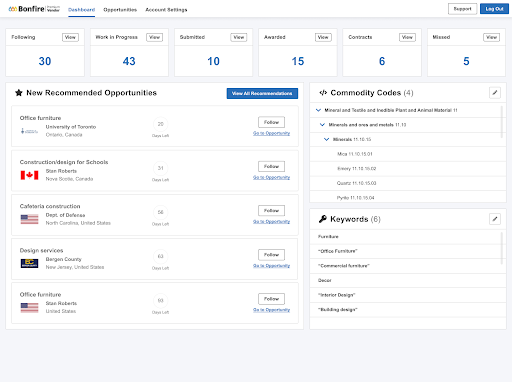 Premium vendors are able to

Follow

and

navigate

to the opportunity details page from here - just like on the opportunities page.

Premium vendors can also see all recommendations by clicking the

View All Recommendations

button. This will bring you to the Recommended section shown below: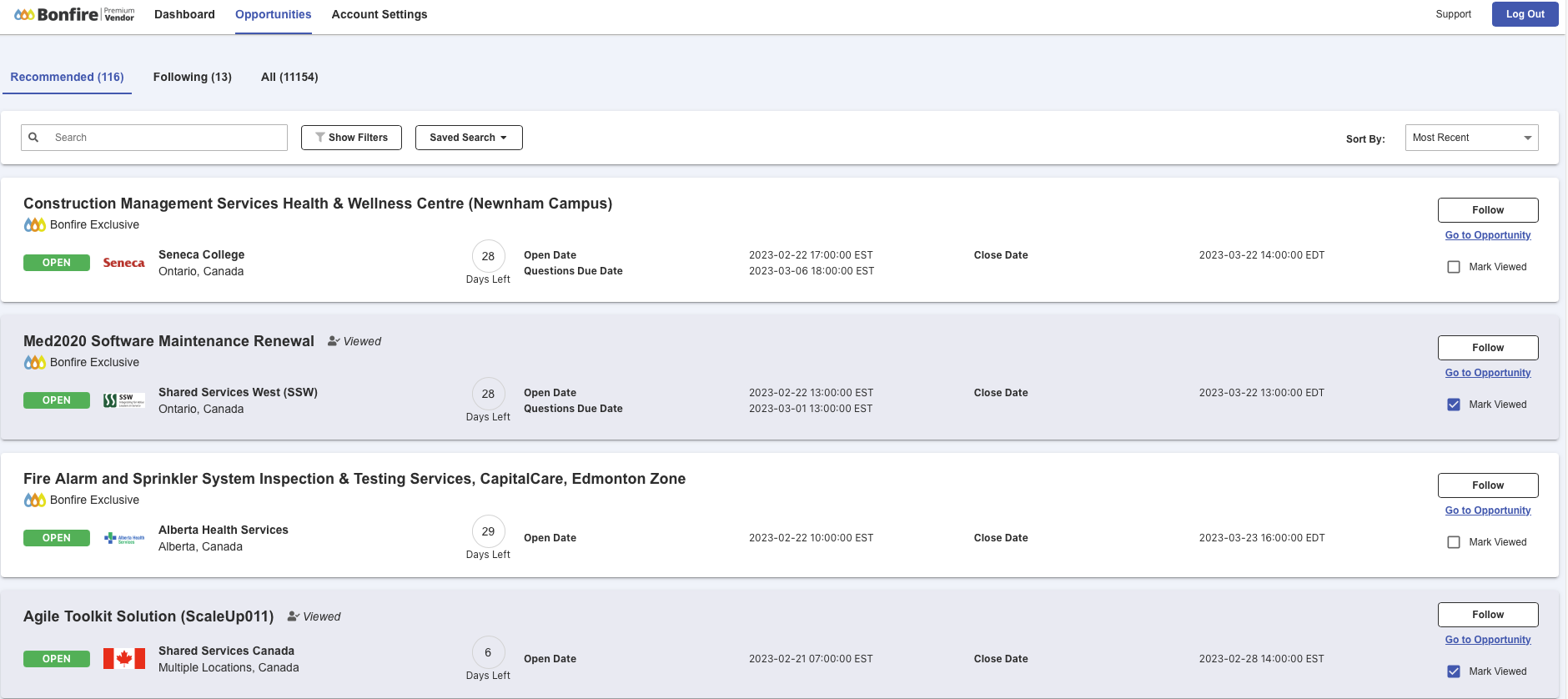 From here, you have several options for how you would like to view your Opportunities! You can search for any keyword or organization name or by location down to the provincial/state level. You can also combine these two search parameters for more specific results (e.g., searching "facilities" when selecting only New York will only return opportunities related to facilities taking place in New York).

You can also choose to Follow opportunities, as shown below:

What Happens When I Follow an Opportunity?
Following an opportunity on your Premium Vendor portal is a great way to be notified of project updates! Once you follow an opportunity, you will automatically receive email notifications regarding Public Notices, Addenda, or important project dates and deadlines. You will also be able to view a list of all Opportunities you have Followed by clicking the Following section, as shown below.

Can I Unfollow an Opportunity?
Yes! To Unfollow an opportunity, simply click the Unfollow button for the opportunity.

However, we recommend that all vendors only Follow opportunities that they wish to receive all notifications and updates for.
Viewing Open Public Opportunities
To view Open Public Opportunities, simply click on the All link: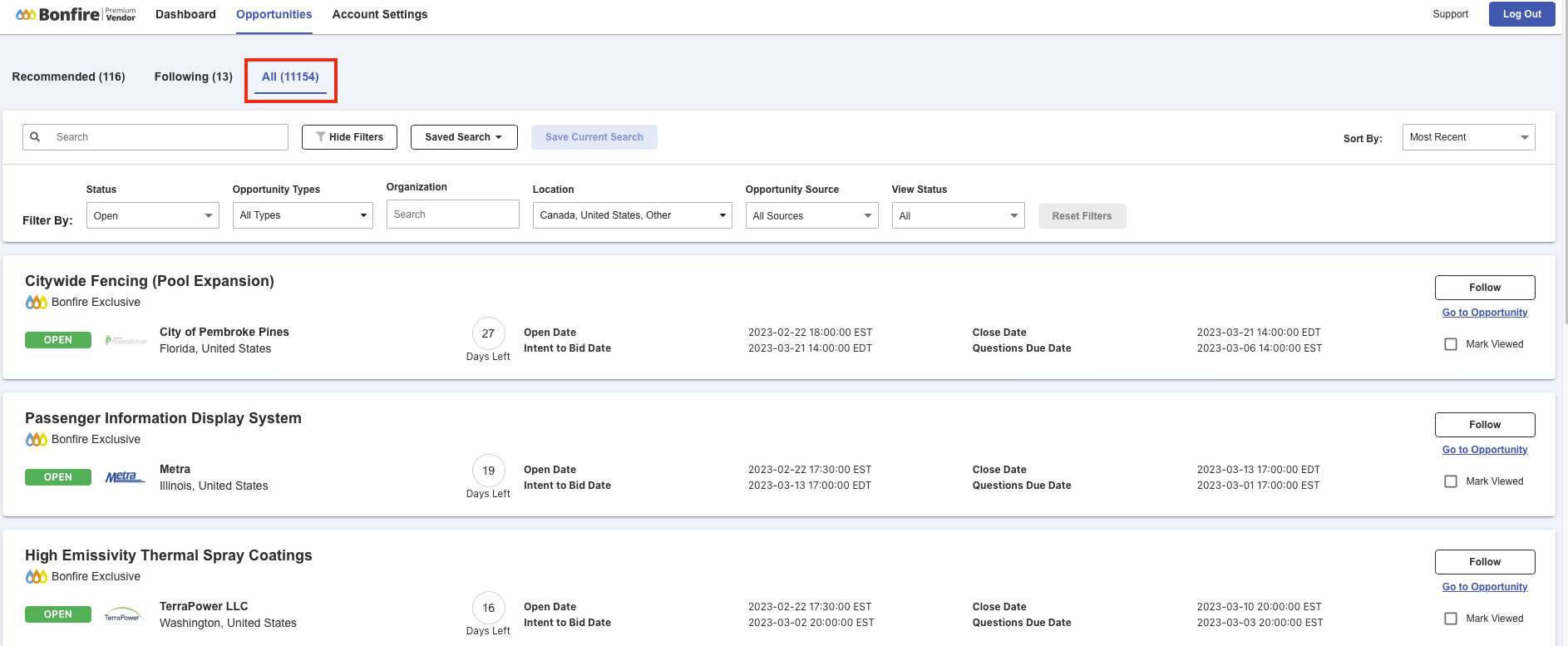 From this screen, you can also choose to Follow opportunities of interest.
Marking Your Opportunities As Viewed
Users have the option to check an opportunity as viewed by using the checkbox. This will then gray out the opportunity so it is easily identified as viewed.
This feature allows users to keep track of opportunities that have already been looked at, by anyone in the account, saving time and effort. Users will not have to look at the same opportunity twice, helping them keep track of their work. This information will also be easily filterable in the list.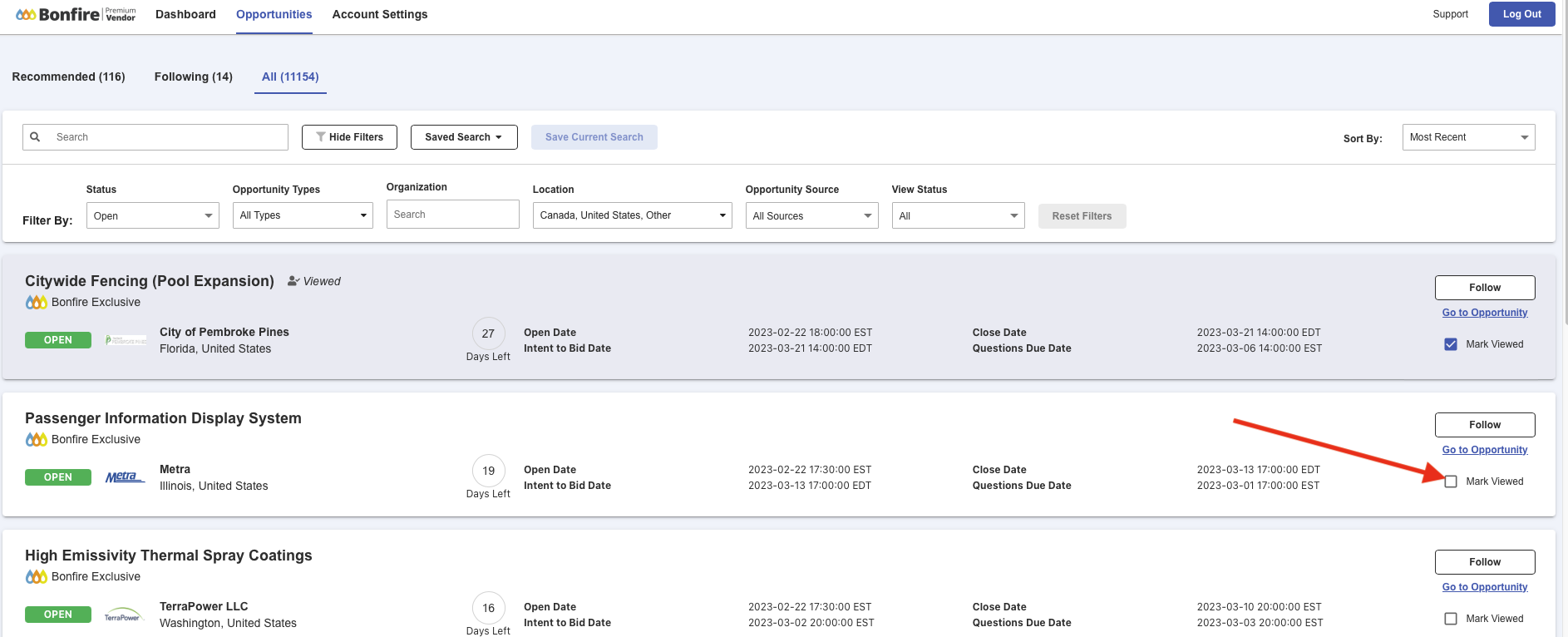 Users can then filter to see only ones that have not been viewed or ones that they have already viewed.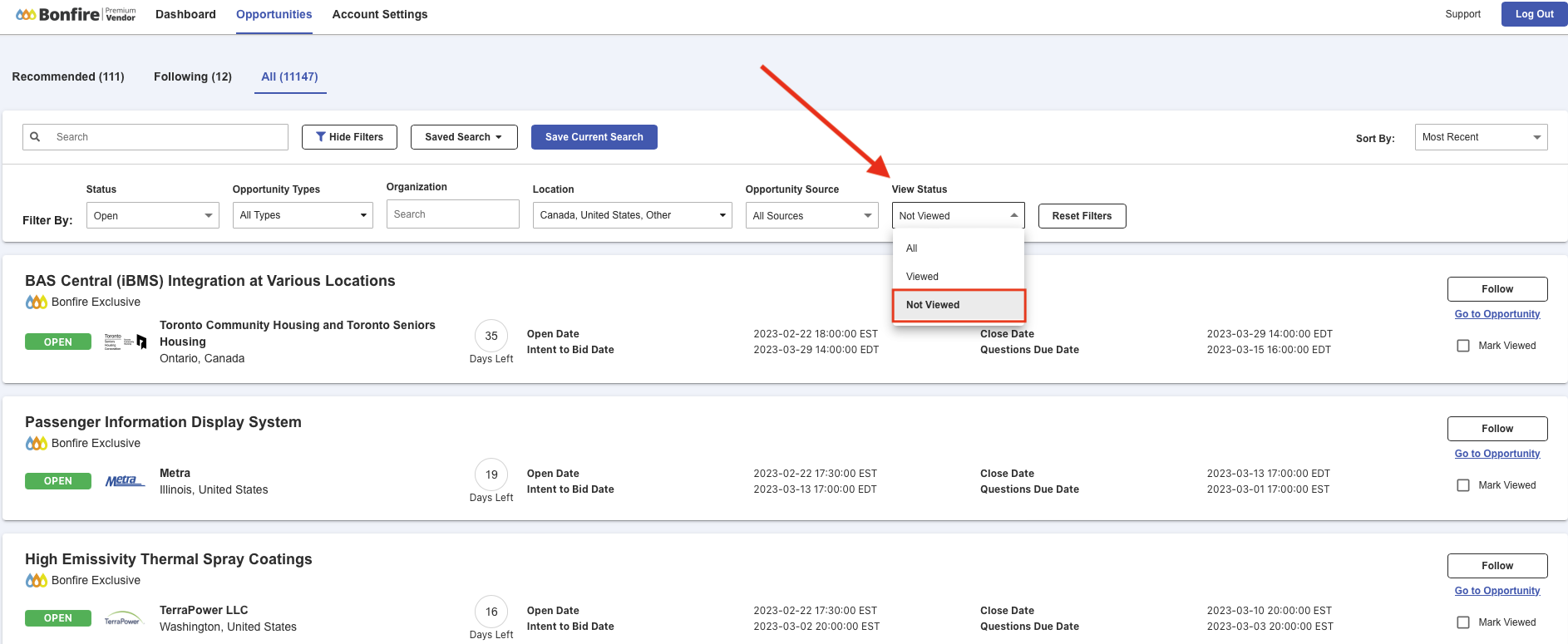 Users can mark an opportunity as viewed in any of their tabs

Opportunities marked as viewed are saved for future reference
Changing Your Settings
You can change your settings by navigating to the Settings page, as shown:

Under Account Settings, you will be able to change all of the information you originally provided during registration. Use the sidebar on the left-hand side to navigate.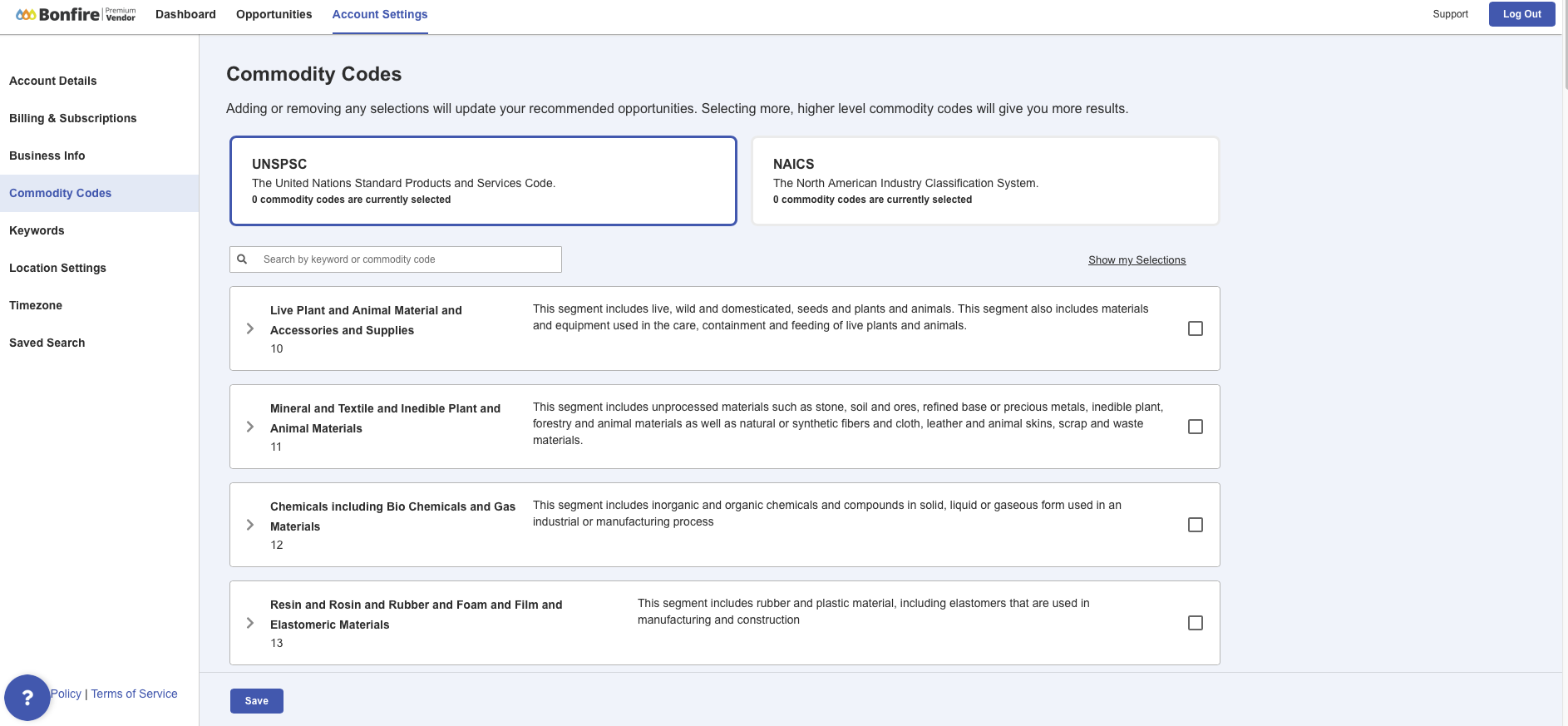 More Relevant Recommendations
For more information, on updating your account settings to receive more relevant opportunities check out our Keywords and Saved Search articles.
For more information on Premium Vendor check out our main page Bonfire Premium and our Feature Overview video.