Account Settings Overview (for Vendors)
In this article, we will go through a brief overview of the Settings section associated with your vendor account in Bonfire.
Once you have logged into your account via any organization's portal, you will see your name and a arrow at the top right of the page. Click the arrow, and you will then see a dropdown menu with several options. Click Settings to begin:

You will then have access to several different tabs in the left sidebar. Click the links below for instructions on how to change each aspect of your profile:
Organization Vendor Record
Your Organization Vendor Record is the record that the current organization's portal you are visiting has on file and maintains internally. You may edit this record. Changes here, however, will only be reflected in the institution that is hosting the opportunity. Additionally, the institution hosting the opportunity may edit this record as well.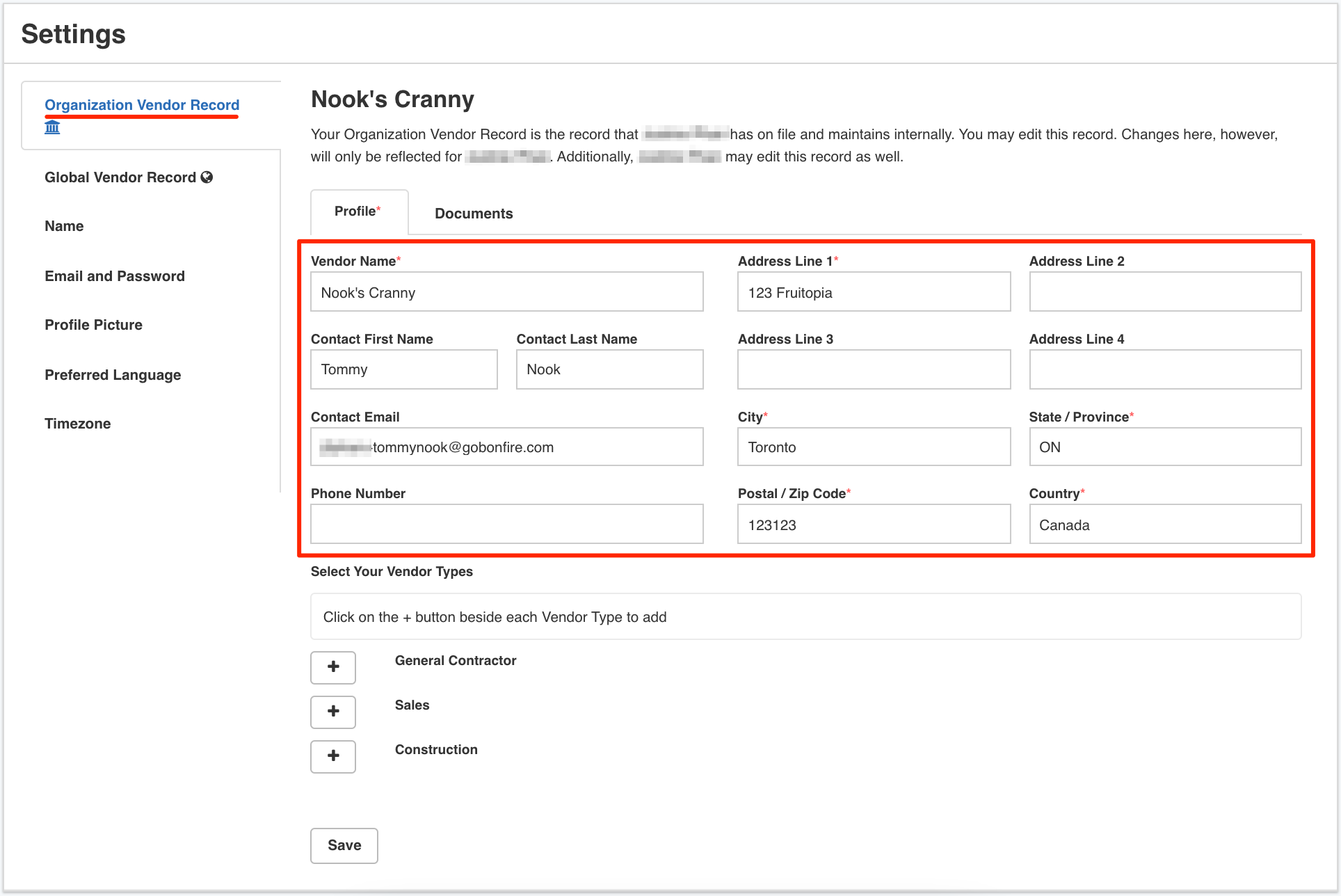 The Documents tab allows you to keep track of any documents requested by the Organization affiliated with your vendor registration. For more information on how to update or upload these documents, see our How do I update the documents on my vendor profile after registration? page.

Global Vendor Record
Your Global Vendor Record is the master record that you maintain on Bonfire and is used to create a new Organization Vendor Record when you log into a specific Organization's portal on Bonfire for the first time. Only you may edit this record.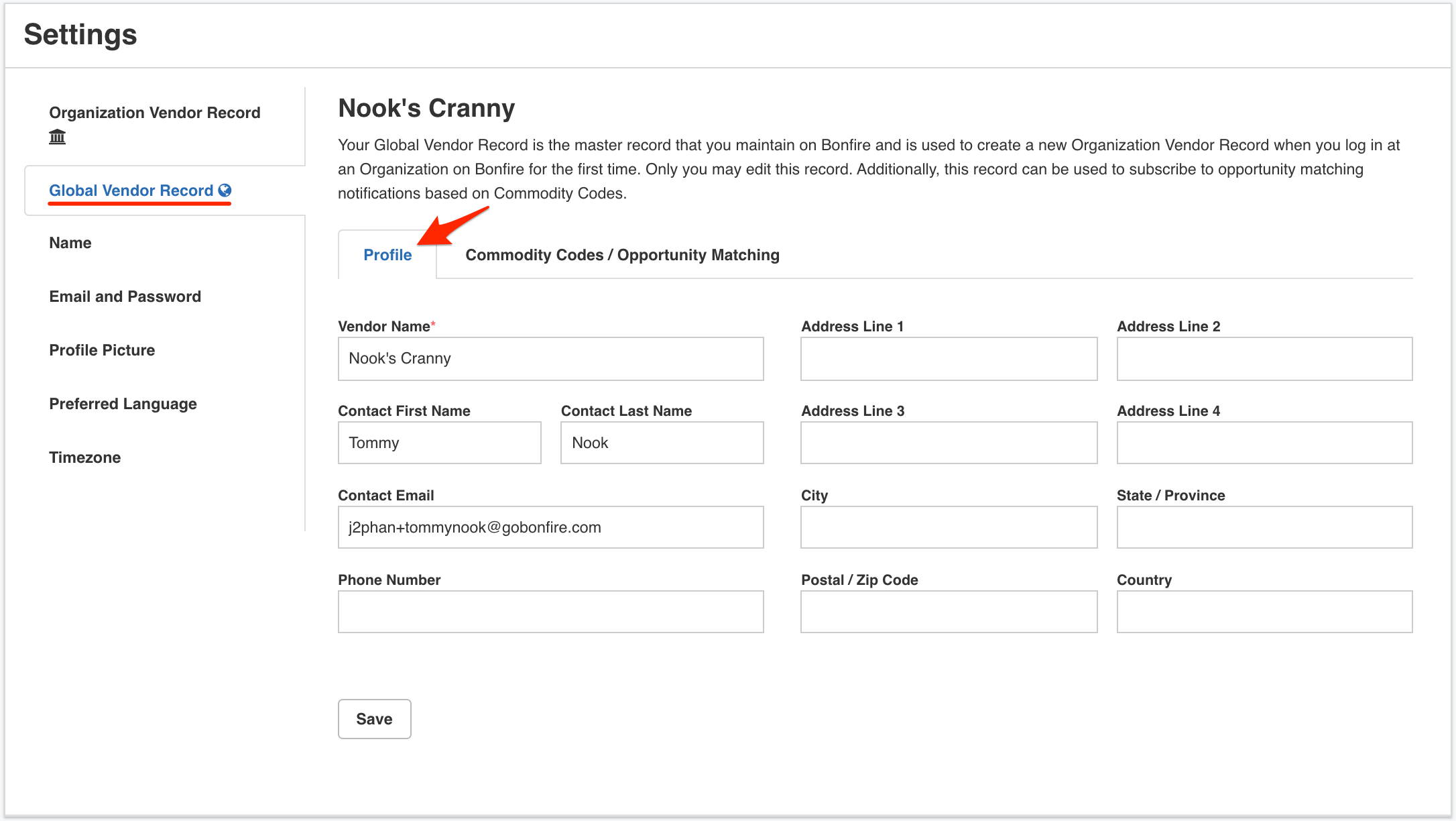 Within the Global Vendor Record, you can also subscribe to opportunity matching notifications via the Commodity Codes / Opportunity Matching tab. This will allow you to be notified of future Bonfire opportunities that are associated with your indicated Commodity Codes and Service Region(s). For more information on this, see our How do I add or delete Commodity Codes on my Vendor Record? and How do I receive bid notifications only in my area/region? pages.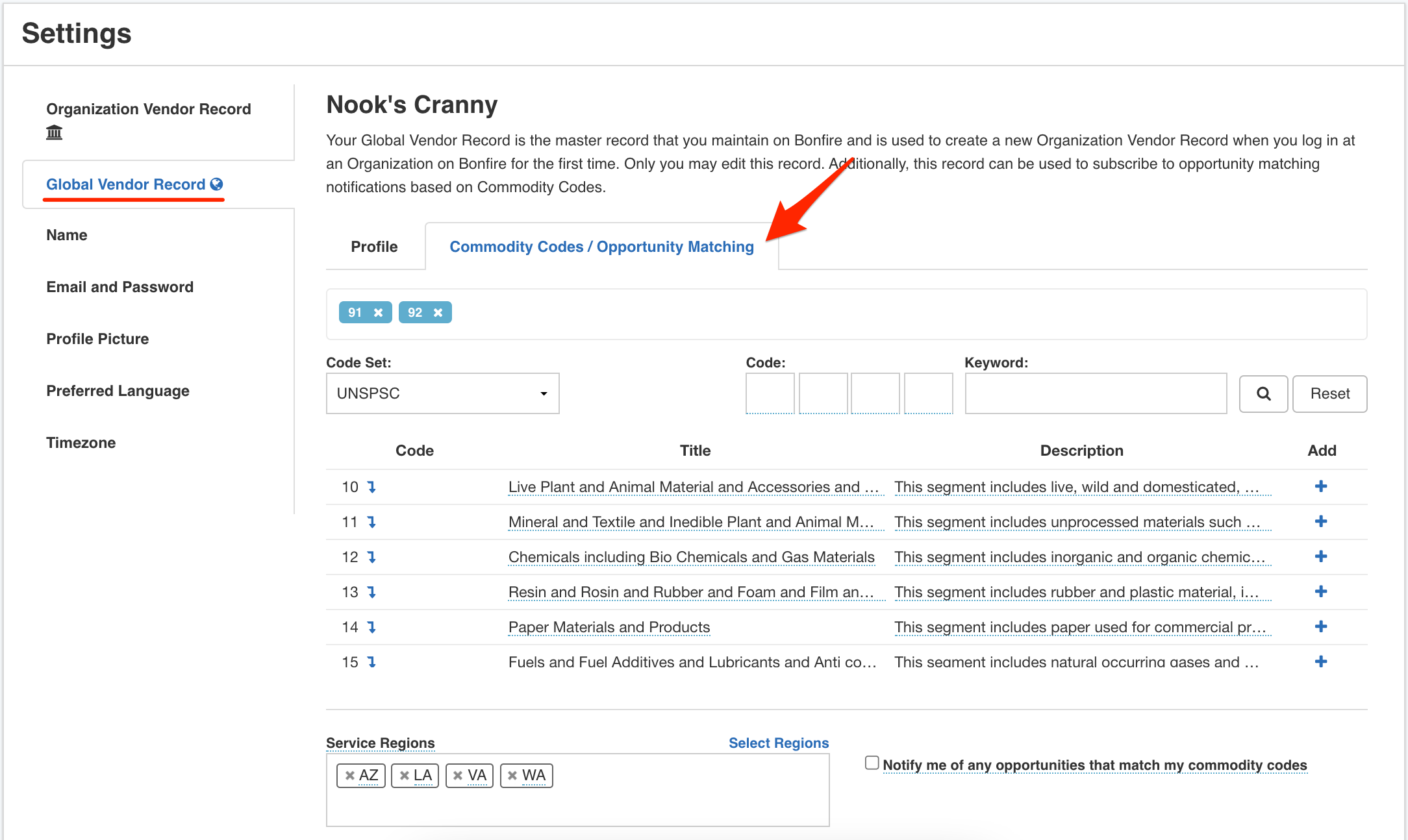 Name
The Name section allows you to input your First Name and Last Name.

Email and Password
At any time you can go into this section and edit your account login email under the Change Your Email heading. (Do note that in order to change your email, you must enter in your current password for security reasons.)
In addition, under the Change your Password section, you can change your password if you wish to. Once you type in your updated email or password click the corresponding Change button to save those changes.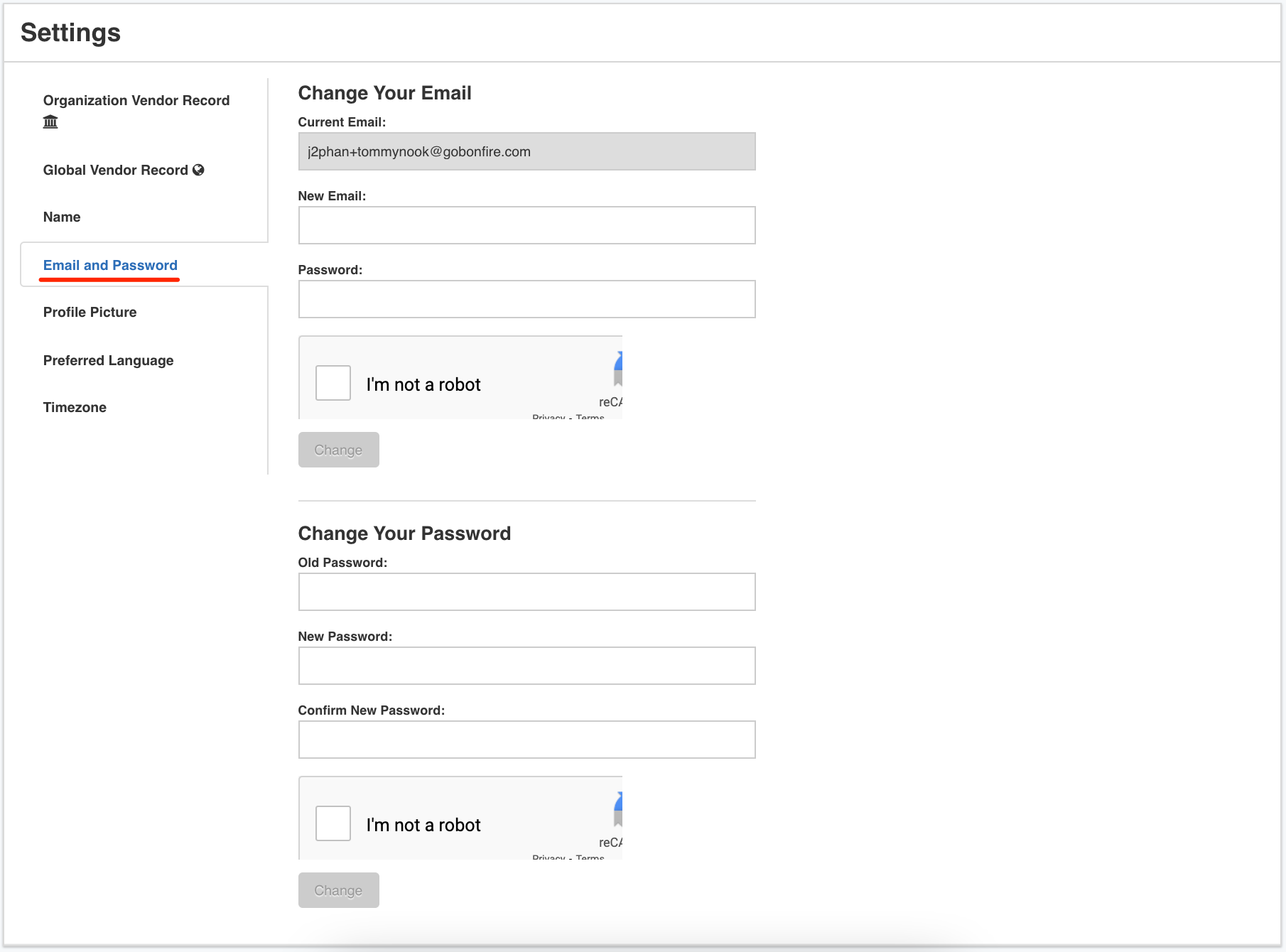 Profile Picture
In this section, you can choose to associate a profile picture with your account. By selecting the Choose File button you can upload any photo in a .gif, .jpg, .jpeg, or .png format. Once you have selected your file, click the Upload button to finish uploading your profile picture.

Preferred Language
In this section, you can adjust the default language that the portal is displayed in. From the drop-down menu, you can choose between one of five languages (English, Russian, French, Portuguese, Spanish). Do note that this preferred language setting is strictly for your profile only and will not impact other users.

Timezone
By default, all dates and times on the portal are displayed using the Organization's timezone. However you can set your own personal timezone preference through this section to display all dates in the app relative to your chosen timezone.

If you would like to return to using the Organization's timezone at any time, simply set your own preference to "Default" from the dropdown menu.