How do I fill out Additional Responses in a BidTable template?
When filling out a BidTable, sometimes the buyer will allow for the submission of a substitute response to any item listed in the BidTable. An additional response can range from a second price that you'd like to bid for an item, to offering an item similar to what is specified by the buyer. The exact flexibility of what can be alternated depends on the columns within the sheet.
You will know if a buyer is accepting additional responses if there is a third tab at the bottom of the spreadsheet named Additional Responses. You'll also see additional instructions for Additional Responses added to the Instructions tab.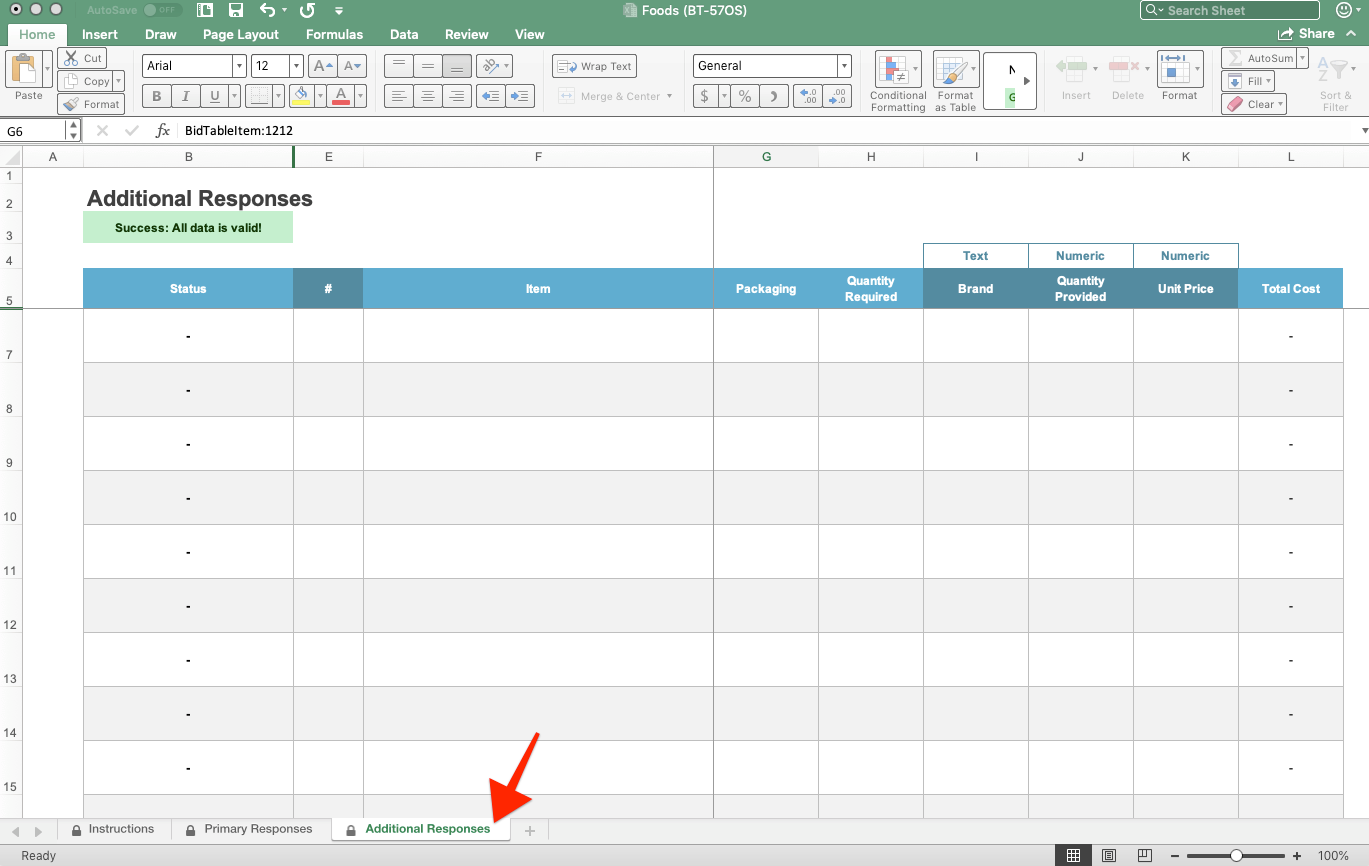 The method for filling out an Additional Response has been designed to be easy and quick, with most of the information being entered automatically.
1. From the Primary Responses tab, take note of the number under the # column for the item you'd like to submit an additional response for. You can also copy that box.

2. Go to the Additional Responses tab and in the first blank row, paste in the item number. The item number should follow the format "#x-x". If the item number has been entered in successfully, then the rest of the item information supplied by the buyer should populate automatically:

Please note that if the information populates automatically, you will not be able to edit those aspects of your Additional Response (in the example in the screenshot, this means that the item, packaging, and quantity required can't be changed). This is because that info has been set by the buyer.
NOTE: If the number is not entered in exactly as it appears in the Primary Responses tab, the information supplied by the buyer will populate as "#N/A" and you may receive an error when you attempt to submit your BidTable on Bonfire.
3. You can then input information in the blank columns with a dark blue heading (i.e., the info that the buyer has requested from you). These Vendor Response columns are where you can vary your original bid in your Primary Responses.
NOTE: You may add as many Additional Responses as you'd like, as long as they match an item already specified in the Primary Responses. If you'd like to provide a bid for something not specified in the Primary Responses, please reach out to the buyer and ask if that can be submitted elsewhere in your proposal.