You must be logged in, in order to access Auctions. If there are any pending or live auctions as part of an opportunity you have completed a submission for, they will be listed in the Auctions tab.

Click on View Auction to access the auction view: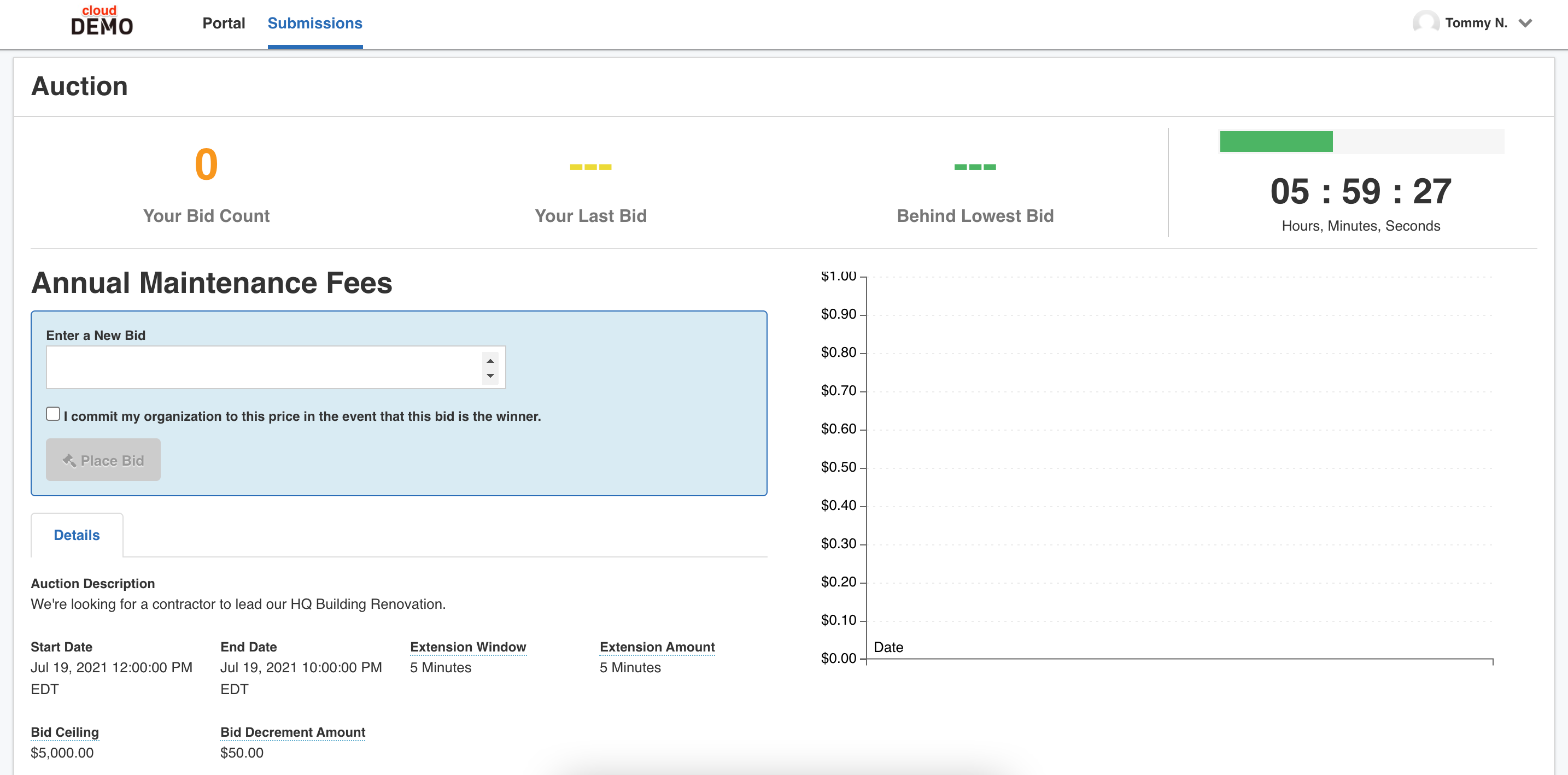 If the auction has not yet opened, you will notice that certain components, such as the ability to submit a bid will be inactive. The schedule of the auction will be in the Details tab. There is a countdown under "Auction Starts In...".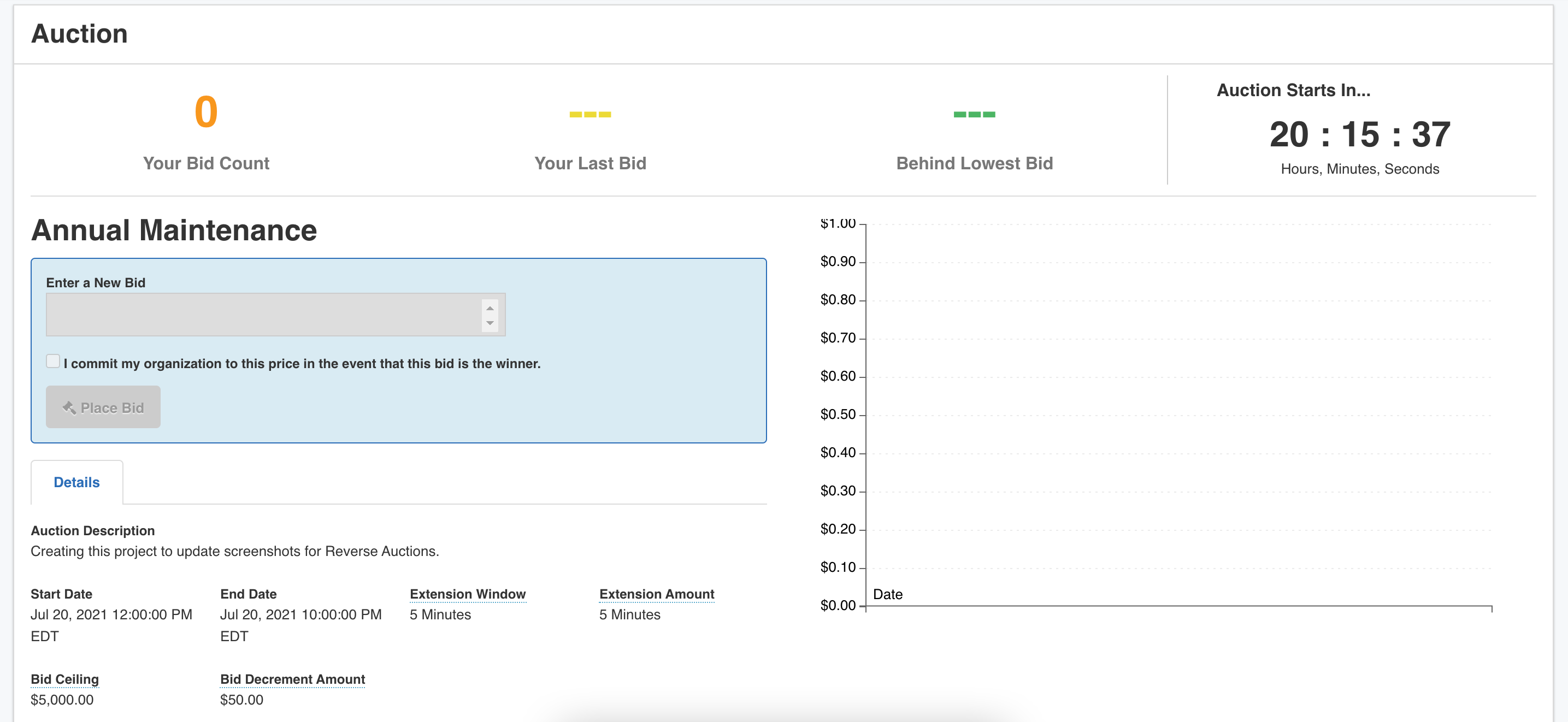 Your view will differ slightly depending on the auction type selected by the organization.
Across the top, you will get current stats that automatically refresh throughout the auction time. No need to refresh your browser.
To make a bid, input your dollar amount into the Enter a New Bid field. You will need to check off the commitment statement prior to clicking on Place Bid each time.
You can also save time when bidding by clicking on Take the Lead. This will automatically input your bid as the next lowest bid (current lowest bid - established Bid Decrement Amount).
NOTE: Selecting Take the Lead before any other bids have been placed will generate the amount that is the Bid Ceiling - Bid Decrement Amount. In the event that there is no Bid Ceiling, the generated bid will be $99,999,999.99.
Your new bid will be mapped in the chart to the right of the screen.
If your bid amount is not accepted (too high, not within Bid Decrement Amount), you will not be able to place a bid.

In an English Auction, Vendors will only see their own bids being charted.
In all other auction types and depending on the auction setup, other bidders may be revealed or remain anonymous.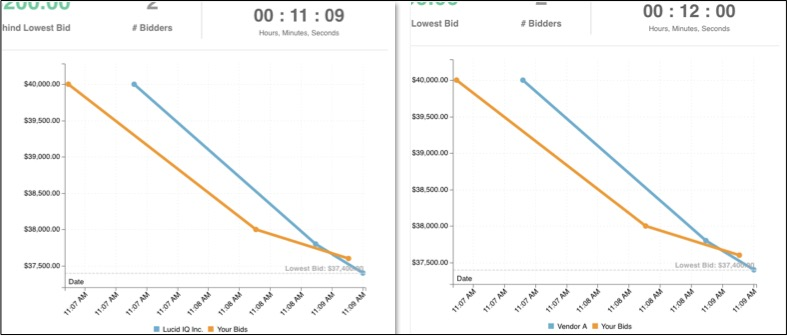 Can Compare Bids: Visible vs. Anonymous
Vendors can leave the auction view at any time and return as long as the auction is still active. No current bids will be lost.
Tips For Vendors
Familiarize yourself with the auction details. If there is a time Extension Window and Extension Amount, be sure to watch the time remaining in the auction in the event that the Extension Window is triggered by a late bidder and the auction gets extended by the Extension Amount.
Please note that the organization running the auction has the ability to Cut-Off Extensions. If this occurs, a blue pop-up will appear in the bottom right corner of the auction advising 'The Extension Window has changed! This Auction can no longer be extended'.

When extensions are cut off, this means that the auction will no longer extend if bids come in during the Extension Window and you will see that both the Extension Window and Extension Amount will adjust to 0 minutes in the auction details.
The countdown will be replaced with an "Auction has ended" message once the auction has ended.